EDIT MAIN
Parent Resources
Lowville Academy and Central School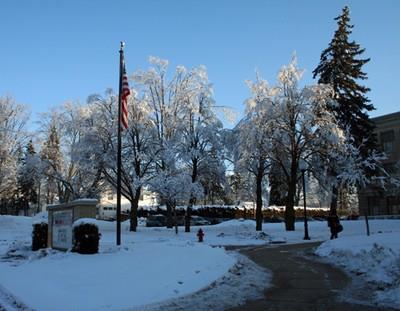 Notification Of Directory Information Designations
In addition to the rights outlined above, FERPA also gives the school district the option of designating certain categories of student information as "directory information." Directory information includes a student's name, major field of study, grade level, participation in school activities or sports, weight and height if a member of an athletic team, honors, degrees and awards received, school email address, photograph and video.
You may object to the release of any or all of the "directory information." However, you must do so in writing by October 17. For your convenience, you may note your objections to the release of directory information on the form which is available on the Parent Resources section of the district website and return it to your child's Building Principal.
NYS Office of Children and Family Services
Child Abuse Hotline

If you suspect a child has been harmed or is at risk of child abuse or neglect, please call 1-800-342-3720 to report what you have seen or heard. Reports can also be filed by accessing the following website: http://ocfs.ny.gov/main/cps/
Cualquier persona que sospeche que un niño tenga riesgo del abuso infantil, negligencia o abandono- Por favor, llame 1-800-342-3720 reportar lo que Ud. ha visto o escuchado. También se puede tener acceso a los reportajes en el web: http://ocfs.ny.gov/main/cps/
Special Services Available for Students Through a 504 Plan
While many parents are familiar with the Committee on Special Education, Section 504 of the Rehabilitation Act of 1973 also provides students who meet specific criteria modifications to help them benefit from the school's programs and activities.
Determination of whether or not a child meets criteria to receive accommodations under CSE or Section 504 may include a review of a child's medical history, observations by those who have worked with the child, and evaluations to measure a child's development, cognitive ability, and academic skills. Children who do not qualify for an IEP may in fact be eligible for a 504 plan.
An important element of both CSE and Section 504 referrals is that of pre-referral interventions. This focuses on trying various classroom accommodations and services to address the child's academic weaknesses. Following data collection, a committee meets to determine the child's eligibility. Both committees include the child's parents, classroom teacher(s), support staff such as a reading specialist or speech-language therapist, the school psychologist, and the building principal or CSE chairperson.
The Committee on Special Education (CSE):
Serves students who may be classified as having a disability in one of thirteen categories (i.e., autism, hearing impairments, learning disabilities, speech or language impairment, etc.).
Creates an Individualized Education Program (IEP) detailing the student's present levels of academic and social performance, related services, and testing modifications.
Receives federal funding to assist school districts in paying for services needed by students between the ages of 3 and 21.
Section 504 Plan:
Serves students with a physical or mental impairment that limits one or more major life activities, such as breathing, caring for oneself, hearing, learning, performing manual tasks, seeing, speaking, walking, or working.
Compares a student to the average student in the national population, not to his/her own ability or that of the child's own school peers when determining eligibility for a 504 Plan.
Creates a written plan that details services provided to students. It is not required that special education services are a part of the plan.
Does not receive federal funding.
At LACS, questions regarding the 504 Plan or Committee on Special Education can be directed to Mrs. Mary Compo, Chairperson of the Committee on Special Education, at 376-9012. Section 504 is also overseen by several co-chairpersons, depending on the grade level of your child:
Kindergarten-5th Grade: Mrs. Philomena Goss and Mrs. Jill Ortlieb
6th Grade: Mr. Scott Exford and Mrs. Jill Ortlieb
7th-8th Grade: Mr. Scott Exford and Ms. Colleen Henegan
9th-12th Grade: Mr. Brian Finn and Ms. Colleen Henegan
If you have any questions regarding CSE or Section 504, please contact any of the aforementioned individuals to arrange a meeting.
Message to families:
Dear parents and guardians,
The Fort Drum Regional Liaison Organization (FDRLO) and Jefferson Community College's Center for Community Studies are conducting a survey of area parents regarding your thoughts and feelings about educational opportunities for your children in this region. The results of this survey will help FDRLO to advocate for and support Fort Drum in the years to come, so we ask that you please take about 5 to 10 minutes to click on the link below and complete the survey. It's completely confidential, and if you participate you will be eligible for a drawing for a gift card (see information in the survey regarding which type of gift card you would prefer if you are selected at random). To complete the brief, confidential survey, please click on the following link:
https://www.surveymonkey.com/r/FDRLOEC_Lowville
Thank you,
Fort Drum Regional Liaison Committee (FDRLO) Education Committee
The Lowville Academy and Central School District hereby advises students, parents, employees, and the general public that it does not discriminate on the basis of race, color, weight, national origin, ethnic group, creed or religion, marital status, age, sexual orientation, gender (including gender identity and expression) and sex, or disability in any of its programs or activities. Inquiries regarding this non-discrimination policy may be directed to: Scott D. Exford, Compliance Coordinator and Mary E. Compo, Compliance Coordinator at 7668 N. State Street, Lowville, New York 13367, (315) 376-9010.